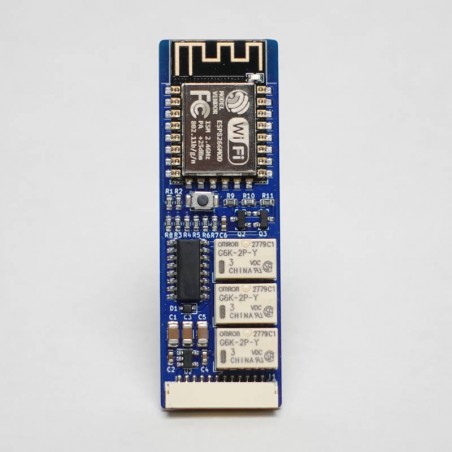  
ESPClicker

Secure payment system
Worldwide Shipping
Return of goods is accepted (*)
Espclicker is a small device that you can use to integrate not IoT devices into your smart home setup, It connects directly to the push buttons of the device, which you want to control, and then simulates pressing them. You can simulate button clicks, hold time, and multiple clicks. Espclicker has three small relays One of which can be configured as normally open or normally closed. also, it has a contactless AC power detector and two "low-side" switches, for connecting additional power relays, so you can connect external relays with different coil ratings, for controlling the big load.
YouTube VIDEO: https://youtu.be/Gc4yCd9yvuE
Technical Specifications
4 Layer PCB
WiFi Module ESP8266 ESP-12F
3x Built-in signal relays ( Control PINS: R1-GPIO4, R2-GPIO5, R3-GPIO12 ) "R1 can be configured as normally open or normally closed" MAX LOAD 500mA 24V
2x Low-Side Switch "ULM2003" ( Control PINS: LS1-GPIO14, LS2-GPIO15 ) MAX LOAD 150mA 1-2Sec
1x ADC Pin "1V Max"
1x ACS Pin "AC Power Detector" (Input Pin GPIO13)
Requires 5V 500mA power supply
Project Page on Github: https://github.com/PricelessToolkit/ESPClicker
Customers who bought this product also bought:
No customer reviews for the moment.